Our current show baby, Occlestone Tantaleyes, won 1st and BOB at the Cheshire Area Show (November 2011) and we hope for more successes on the show bench for our little Tansie.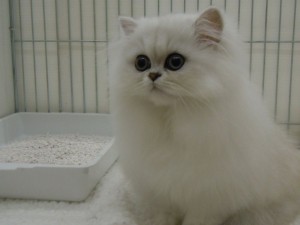 Ch. Occlestone Lalique:
Our Lalique gained her title of Champion early this year.
Last year's little boy, Occlestone Let's Dazzle  had the following successes:
1st and Best of Variety Kitten at the Lancashire Championship Cat Show (March 2010)1st and Best of Breed at the Shropshire Championship Cat Show (February 2010)
Occlestone Silver Laddie won a 1st and Best of Breed at the 2009 North of Britain Championship Cat Show.
And introducing Occlestone Silver Miracle, known at home as Dolly.  She earnt her name from being born very early and weighing only 40 grams.  Mum Kashmere did not want to know her for the first few days and human "Mum" had to hand feed her until Kashmere took over.  The vet said that considering her birth weight it was a miracle she made it.  After that difficult start to life Dolly has gone on to win 1st and Best of Breed at the 2009 Cheshire Area Championship Cat Show.