Occlestone Magneteyes  –  1st & Best of Breed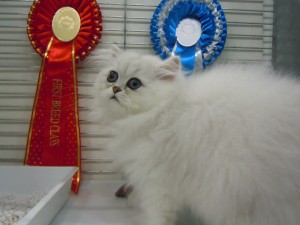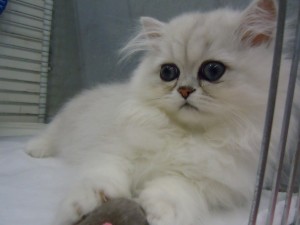 Show Report by Mrs Pat Perkins
1st & BOB OLLIERS OCCLESTONE MANGNETEYES – (23.6.12) Delightful young lad, lively and full of play. Very soft full coat still a baby texture, ticking quite even, clear hocks and paws, silvery almost white undercoat, tiny fluffy tail. Small but compact build. Rounded top of head ears still a little high nicely furnished with silver feathers, large expressive eyes the greenish aqua deepening from pupil, medium nose fair break, brick leather well outlined in black as were his eyes, firm chin – promising alert young lad.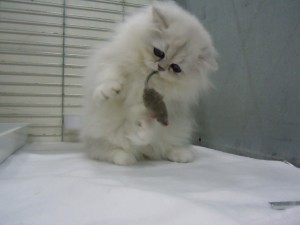 Show Report by Mrs C Bamford OCCLESTONE MAGNETEYES. (10) 23/06/12.  Chinchilla male with a lovely shape to his body, well grown, good bone and a short tail.  Round head with neat ears, broad nose with a brick red nose leather, wide level bite.  Lovely preparation to his
coat that was pristine white with even tipping on his back and tail.  His large
expressive eyes appeared deep blue but they are still changing colour.
Magneteyes is now owned and much loved by Natasha and Russell.