Introducing Occlestone Tamara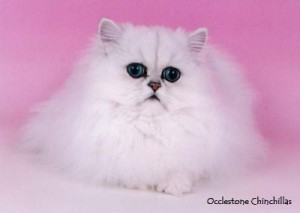 Tamara's show results
Cheshire Area Championship Cat Show:
1st BOB (Judge: Mrs Averil Dawson)

"Chunky, cobby baby, twenty weeks old. Lovely head type, smooth skull with well set ears. Neat nose with stop, brick leather and outline. Lovely, bold blue-green eyes with liner, cheeks filling out nicely, firm chin and good bite. Very full, profuse coat, lightly tipped. Very well shown!"
Cameo, Pewter & Smoke Society Championship Cat Show:
2nd place (Judge: Mrs Pat Perkins)

"Another lovely, young lady of six months. Super coat, very long and flowing, nice ruff, even tipping, wide full tail, clear hocks and feet. Rounded top of head, ears still held a tad high, nicely feathered. Medium length to nose, brick leather, well outlined, wide open eyes, the colour developing from the centre, still teething which made her muzzle a little pinched. Sweet youngster, with a lot going for her".
And introducing Occlestone Cara Mia – born 19 April 2005.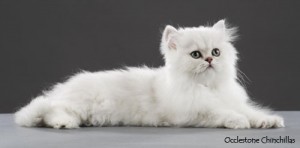 Cara Mia show results
Chester & North Wales Championship Cat Show:
1st BOB (Judge: Mrs Linda Dutton)

"This girl shows much promise. Good top of head with ears a little obvious and open at present, need time to drop, short pure white furnishings. Smooth rounded skull. Round eyes of blue-green colour developing well, not yet set, complimented by dark brown pigment. Brick nose leather with good liner and good size nostrils. Wide muzzle with level bite – appears to be teething, cheeks need to fill out. Good body conformation, covered by a full coat, lightly, but evenly tipped. White frill and pure white undercoat. Tail short and well covered in proportion to body. Short fat legs with no dusty markings to underside of paws. Overall effect was of a very pleasing baby that shows a lot of promise for the future".
North West Championship Cat Show:
1st BOB (Judge: Mr David Redfeldt)